---
The Violin Connection
PRIVATE VIOLIN LESSON RATES
---
"Finding Expression, Enjoyment, & Entertainment Through Music"
Home │ Lesson Rates & Scheduling │ FREE Lessons & CA$H │ About TVC │ Contact
Resources │ Pictures │ Gift Certificates │ Testimonials │ CHARTER SCHOOL FUNDING
Why Choose The Violin Connection? │ Hear Samples of Mr. J Playing Violin!
For music lessons in any other instrument (piano, guitar, voice, etc.)
email admin@violinconnection.com
*Unbeatable Lowest Rate GUARANTEE:
TVC private violin lesson rates will NOT be beat - GUARANTEED! If you find anybody else within the area (Sacramento, Stockton, Lathrop, Lodi, Manteca, Galt, Tracy, Modesto, Pleasanton, Antioch, Danville, etc.) legitimately offering private violin lesson rates that are lower than TVC rates, contact the teacher & he will match or beat the less expensive pricing structure - 100% GUARANTEED!
NO REGISTRATION OR SIGN-UP FEES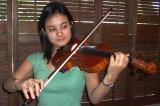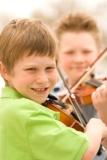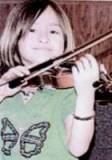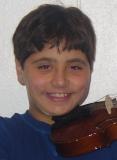 Lesson Rates & Scheduling:
Call 209-475-1561 &/or email admin@violinconnection.com for free rate quotes (which are calculated based on a number of variables including music style, schedule flexibility, teach-ability, experience, etc.) and also for scheduling lessons & signing up for classes.
UNPARALLELED FIRST-CLASS TEACHING SERVICES:
To receive the ULTIMATE in special treatment and violin teaching services, the teacher may come out to meet you at a location of your choosing. This makes things VERY convenient for you, not to mention the fact that you will most likely save quite a bit of time plus money on gas! To receive this 1st-Class Service, for each lesson session just add $20 (convenience fee) plus a travel fee of $0.75 for each mile traveled (total round-trip mileage, rounded to the nearest tenth of a mile as calculated by MapQuest).
Music Styles Taught (Include But Are NOT Limited To):
- Classical (pre-requisite to other styles)
- Improvisation (including "Nuttin' But Stringz" as seen on America's Got Talent)
- Worship Band
- Irish/Celtic/fiddle
- And MORE!
>>>>Click HERE for samples
*NOTE: Violin lesson locations vary depending on
individual student needs and desires.
Scheduling is extremely FLEXIBLE but time slots
are given on a first-come-first-serve basis.
Also bear in mind that the lowest-rate guarantee
does NOT apply to students that
pay for lessons via Charter School funding.
Hear Samples of Mr. J Playing Violin!
*NOTE: Please be patient - the audio files may take a few minutes to download.
Files are in .wma format and meant to run in Windows Media Player.
For F-R-E-E Lessons Click HERE
"Finding Expression, Enjoyment, & Entertainment Through Music"
---
Home │ Lesson Rates & Scheduling │ FREE Lessons & CA$H │ About TVC │ Contact
Resources │ Pictures │ Gift Certificates │ Testimonials │ CHARTER SCHOOL FUNDING
Why Choose The Violin Connection? │ Hear Samples of Mr. J Playing Violin!
Copyright © 2023 The Violin Connection All Rights Reserved.